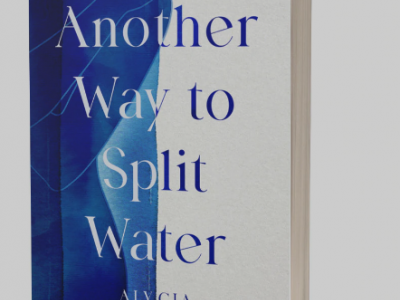 Junior Anniversary Fellow Dr Alycia Pirmohamed is interviewed in the latest issue of Books From Scotland on her forthcoming poetry collection, Another Way To Split Water (Birlinn 2022).
I wrote the poems in Another Way to Split Water over several years, and so I think of the collection as capturing the different ways I've encountered and written about these themes as I've changed and grown. In my earlier work, family and familial stories and traditions are of particular importance. I also felt drawn to use my writing as a way to challenge misrecognition and Islamophobia, and to feel more connected with my faith. Figurative language gave me an opportunity to reflect on and interrogate slippery concepts like 'homeland', to cross borders, to write to the ghosts of people and places. For me, writing poetry is always a form of questioning, a search to better understand myself and to think more deeply about how my experiences fit into a larger context. Navigating how I belong in different spaces, what I've inherited, and what histories were passed down to me or written on my skin, has helped me uncover various truths about myself and the world I live in. I think of my work as constantly shifting and moving, finding shape in themes of womanhood and sexuality, as well as in meditations on the natural world. One of the most thrilling aspects of putting this collection together was placing some of this earlier work next to newer poems, and seeing what resonances and echoes were created between them.
To read the full interview, please visit https://booksfromscotland.com/2022/06/another-way-to-split-water-a-q-a-with-alycia-pirmohamed/. The latest issue of Books From Scotland, titled 'Sanctuary', is guest-edited by the Scottish BPOC Writers Network, including Dr Pirmohamed. Another Way To Split Water is released on 1 September 2022.
Dr Pirmohamed will be discussing her new collection at the Edinburgh International Book Festival with Jay Gao and Tice Cin on Saturday 13 August at 18:30 BST. Tickets can be purchased here.