FELLOWS
Richard Adelman, University of York
The Honourable John Bannon, University of Adelaide
Štefan Benuš, Constantine the Philosopher University in Nitra
Katrin Berndt, Bremen University
Tom Bristow, University of Melbourne
William Christie, University of Sydney
Sarah Day-O'Connell, Knox College
Diana L. Eck, Harvard University
Maria Filippakopoulou, private scholar, Scotland
Krzysztof Fordoński, University of Warsaw
Axel Gelfert, National University of Singapore
Russell Goodman, University of New Mexico
John Haldane, University of St Andrews
Craig Hardiman, University of Waterloo
Sylvia Hoffert, Texas A&M University
Gemma John, University of St Andrews
Bronach Kane, University of York
Pawel Lukow, Warsaw University
Leemon McHenry, California State University, Northridge
Giorgio Melloni, State University of New York at New Paltz
John Miller, University of Glasgow
Arima Mishra, Delhi School of Economics
Peta Mitchell, University of Queensland
Eric Parisot, University of Melbourne
Jochen Petzold, University of Freiburg
Hanna Roisman, Colby College, Maine
Joseph Roisman, Colby College, Maine
Mirjam Schaub, Institut für Philosophie, Freie Universität Berlin
Alexander Schmidt, Friedrich-Schiller-Universität, Jena
Lada Stevanović, Institute of Ethnography, Belgrade
April Shelford, American University, Washington DC
Tereza Stöckelová, Institute of Sociology, Academy of Sciences
Jan Swearingen, Texas A&M University
Rosemary Sweet, University of Leicester
František Trstensky, Catholic University in Ruzomberok
Petra Van Brabandt, University of Antwerp
Claire Warden, University of Edinburgh
Alex Watson, University of York
Aishih Wehbe-Herrera, University of La Laguna
Andrew Wells, University of Oxford
Charles Withers, College of St Paul & St Mary, Cheltenham
Yan Shaoxiang, Capital Normal University, Beijing
EVENTS
Professor Pauline Phemister is appointed Deputy Director.
As part of the University's programme of events to mark the bicentenary of Charles Darwin's birth, IASH offers five seminars in the series Dialogues with Darwin: Darwin and Edinburgh, later published as Occasional Papers. In November, the Institute partners with the Royal Society of Edinburgh to organise a one-day conference on Darwin and Lincoln on Race and Society.
IASH convenes the CHCI: Dialogues of Enlightenment conference in June. 140 delegates from around the world meet to discuss the conference theme. A plenary lecture is delivered by Nobel Laureate Wole Soyinka at the Scottish Parliament titled Enlightenment and the New Enthusiasms on 12 June.
Rona Munro's play The Last Witch premieres at the Edinburgh International Festival in August.
Dr Maria Filippakopoulou organises a programme of events relating to the Institute's Translations, Adaptations and Modalities theme; these include a session on practical translation entitled Alice in the Real World, a one-day conference on Romantic Translation 1780-1830 and support for the VARIE conference on Art Writing: Translations, Adaptations, Modalities.
IASH hosts a one-day symposium and three half-day workshops on From Missioning to Militourism: Anglo-American Imperialism and the Pacific Imaginary.
Speculative Lunches include a session on Oral Culture and the first meeting of the Humanities and Climate Change group.
In memory of Professor Timothy Sprigge (1932-2007), his personal library is generously donated to IASH for the creation of the Sprigge Room. The collection is catalogued with financial support from the Scots Philosophical Club, and a reception to mark the official opening of the Sprigge Room is held during the Metaphysics of Consciousness conference held in Professor Sprigge's honour in July.
Leemon McHenry, "As a three-time visiting fellow in 2009, 2013 and 2017, IASH provided the opportunity for me to do some of the most important and productive work of my philosophical career, meet other fellows from all over the world and enjoy the continuity of my connection with Edinburgh going back to my postgraduate days in the 1980s… IASH is a scholar's sanctuary."
WORK IN PROGRESS SEMINARS BY FELLOWS OF THE INSTITUTE:
Dr Tom Bristow, "Anthropocene: a Metaphor Substituting and Condensing 'Guilt' and 'Hope'"
Dr Sarah Day-O'Connell, Translations on Record: Eight Decades of Joseph Haydn's English Songs"
Dr Axel Gelfert, "Kant's Maxims of Enlightenment and the Pathologies of Testimony"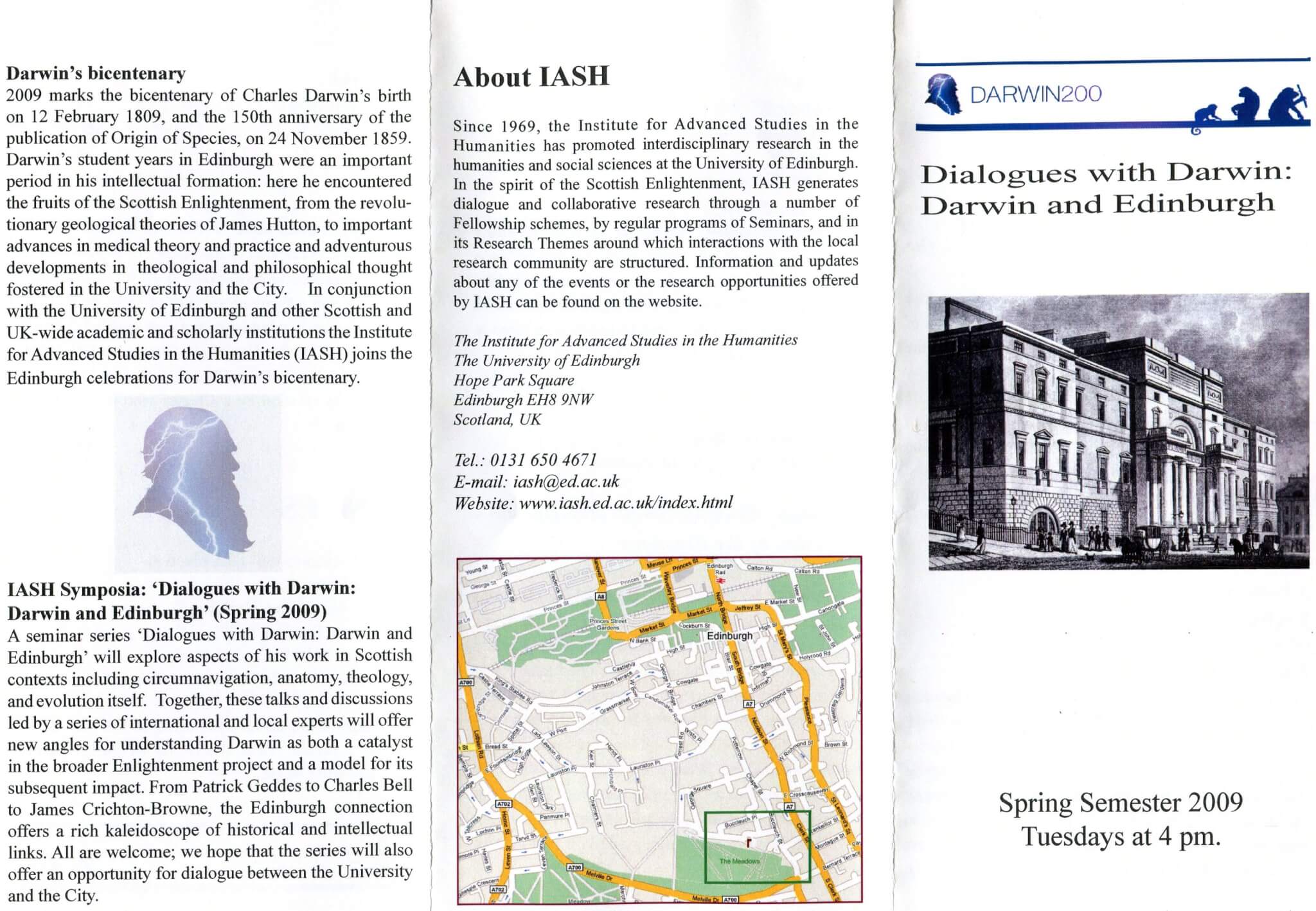 gallery