FELLOWS
Lorena Anton, University of Bucharest
Desmond Bell, Queen's University Belfast
Helen Birkett, University of York
Marco Bernini, University of Parma
Rosalind Carr, University of Glasgow
Lorraine Code, York University
Fabienne Collignon, University of Glasgow
Russell Daylight, Independent Scholar, Australia
Sharon Deane-Cox, University of Edinburgh
Maksymilian Del Mar, University of Lausanne
Jonathan Delafield-Butt, University of Copenhagen
Don Garrett, University of Utah
Axel Gelfert, National University of Singapore
Pamela Gilbert, University of Florida
Michael Graham, University of Akron
Margaret Graves, University of Edinburgh
Rachel Joy Harkness, University of Aberdeen
Willem Lemmens, University of Antwerp
Deidre Lynch, University of Toronto
Tomasz Łysak, University of Warsaw
Simon MacDonald, British School at Rome
David Manning, University of Leicester
Piyush Mathur, Indian Institute of Advanced Study, Shimla
Jeffrey McCarthy, Westminster College
Claire McKechnie, University of Edinburgh
Stuart McWilliams, Queen's University, Belfast
David Miller, University of Stirling
Heather Moquin, University of Glasgow
Alexandra Parvan, University of Pitesti
John Psarouthakis, Industrial Technology Institute, Ann Arbor
Mark Robson, University of Nottingham
Daniel Schulthess, University of Neuchâtel
Kioyshi Shimokawa, Gakushuin University, Tokyo
Jeff Strabone, Connecticut College
Hui Wang, Tsinghua University, Beijing
Thomas Wright, University of Cambridge
Esther Wohlgemut, University of Prince Edward Island
Koji Yamamoto, University of York
Marianne Zwicker, University of Edinburgh
EVENTS
The Sawyer Seminar series on Embodied Values: Bringing the Senses Back to the Environment, funded by the Andrew W. Mellon Foundation, is brought to a conclusion with a three-day conference in December, organised by Dr Rachel Harkness.
Sawyer Seminar inspired workshops include Scenting/Smell; Seeing/Vision; Touching/Vision; and Senses in Motion.
The Institute participates in celebrations of the David Hume Tercentenary. Celebrations include large public events such as the Hume Birthday Party; Professor Peter Millican's lecture at the Royal Society of Edinburgh; and the Gifford Lecture by Lord Sutherland of Houndwood. The Institute publishes Dialogues with Hume as a set of five IASH Occasional Papers. IASH also co-hosts the week-long International Hume Society conference in July, with a plenary lecture by Amartya Sen and the Carnegie Centenary Lecture delivered by Professor Don Garrett.
IASH joins with the Scottish Centre for Diaspora Studies to hold a symposium on Scottish Philosophy in Transnational Contexts.
Postdoctoral Fellow Dr Aine Kelly organises a symposium on The Acknowledgment of the Aesthetic with support from the British Society of Aesthetics.
Workshops begin as part of the Atmospheres and Atmospherics research theme and include Air/Flow.
IASH organises events as part of the Scotland's Transatlantic Relations (STAR) project including Caribbean Research seminars and literature workshops.
The first joint event with the British Council, UNESCO Scotland Committee, Museums Galleries Scotland, Royal Society of Arts in Scotland, and the Royal Society of Edinburgh takes place at the Edinburgh Festival of Politics, with a debate titled Whose heritage, whose society?
As part of the Academic and Civic research theme, and to coincide with the visit of Professor Dr John Psarouthakis, IASH hosts a symposium on The Business of Education.
IASH, alongside the Italian Visiting Fellowship in the Humanities, organises a lecture with Professor David Forgacs entitled Looking at the Margins: social observation and exclusion in Italy.
As part of the Theory and Practice and the Environment programme, a lecture is given by Professor David Wood entitled Is it time for art? Professor Wood also provides an installation in Hope Park Square as part of his project on IntraTerrestials.
WORK IN PROGRESS SEMINARS BY FELLOWS OF THE INSTITUTE:
Dr Claire McKechnie, "The Unspeakability of Cancer in Victorian Culture"
Dr John Psarouthakis, "Education and Technology"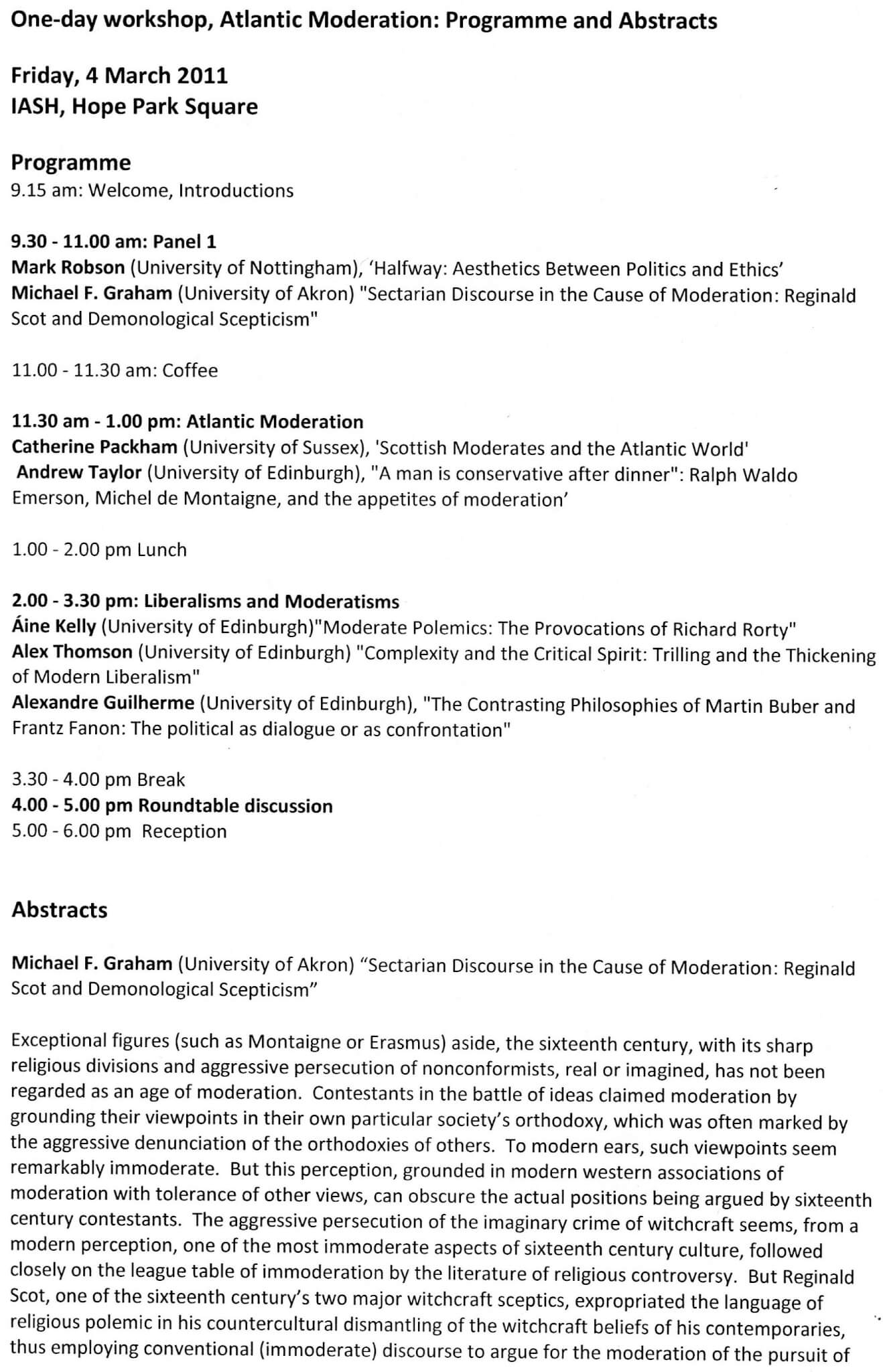 gallery