FELLOWS
Fredrik Albritton-Jonsson, Colorado State University, Fort Collins
Natalija Arlauskaite, Vilnius University
Desmond Bell, Queen's University Belfast
Stella Bolaki, University of Edinburgh
Mateusz Borowski, Jagiellonian University
James Clapperton, University of Edinburgh
Sarah Cockram, University of Edinburgh
Viccy Coltman, University of Edinburgh
Orietta Cordovana, Università degli Studi 'La Sapienza'
Anne Cranny-Francis, Macquarie University
John Docker, Humanities Research Centre, Australian National University
Charlie Ellis, University of Sheffield
Christian Estrade, Stendhal University
David Evans, University of St Andrews
Maria Filippakopoulou, private scholar, Scotland
Lívia Guimarães, Universidade Federal de Minas Gerais
John Haldane, University of St Andrews
Alessandro Iannucci, University of Bologna
Anthony S. Jarrells, University of South Carolina
Nelya Koteyko, University of Nottingham
Rajesh Kumar, PPN College, Kanpur
Judit Majorossy, Eötvös Loránd University
Wojciech Małecki, University of Wrocław
Jerica Marušic, University of Edinburgh
Rona Munro, writer
Alexander Nehamas, Princeton University
Keng Sen Ong, TheatreWorks, Singapore
Ruth Perry, Massachusetts Institute of Technology
Tibor Pintér, Eötvös Loránd University, Budapest
Susanne Schech, Flinders University
Alexander Smith, Keele University
Patrícia Soley-Beltran, University of Aberdeen
Hannah Spahn, Freie Universität Berlin
Jan Swearingen, Texas A&M University
Endre Szecsenyi, University of Pécs
Tom Toremans, Catholic University, Brussels
Mandy Treagus, University of Adelaide
Michael T.R.B. Turnbull, private scholar, Scotland
Kristof Vanhoutte, Pontificia Università Antonianum, Rome
C. Ovidiu Verdes, University of Bucharest
David Wall, University of the West of England
Genevieve Warwick, University of Glasgow
Eric White, Anglia Ruskin University
EVENTS
The Institute hosts the final workshop on Environmental Aesthetics and Ethics as part of the Embodied Values and the Environment research project funded by the British Academy.
The first Conversations in Humanities, Arts and Technologies (CHAT) session is organised by Professor Andy Clark as part of the Institute's research theme The Humanities in the 21st Century. Guest speaker Professor Catherine Wilson leads a discussion at the Filmhouse on What does Biology have to do with Morality?
Dr Nick Higgins organises a meeting on Practice-Based Research, building on a Speculative Lunch in 2007.
IASH and STAR host a one-day conference on Transatlantic Ideas of the American Founding, with keynotes from Professor Gerald Stourzh and Professor David Armitage.
Dr Anthony Jarrells organises a roundtable on Scott, Scotland, and Romantic Studies and later in the year, IASH hosts The Crisis in the Humanities, organised by Dr Kristof Vanhoutte.
In October, IASH organises a lecture by Australian writer David Malouf, in association with the Scottish Arts Council and colleagues in English Literature.
At the end of the year, IASH hosts a conference marking the centenary of the birth of American poet George Oppen.
Anne Cranny-Francis, "IASH for me in 2008 was a welcoming space, an interlude away from the politics of my own University, a place to be a scholar… This interdisciplinary group is typical of the rich intellectual mix of researchers in residence at IASH, which makes the fellowships so inspiring and fruitful… At a time of intellectual specialisation that seems to contradict the calls for transdisciplinarity, IASH is a special place."
WORK IN PROGRESS SEMINARS BY FELLOWS OF THE INSTITUTE:
Dr Mateusz Borowski, "Stories to share: Storytelling as a means of redefining stage-audience relationship in contemporary Scottish playwriting"
Dr James Clapperton, "Remembering the Siege of Leningrad: Conversations with Survivors"
Dr John Docker, "The Scandal of Sir Walter Scott's Ivanhoe in Nineteenth-Century British Culture"
Dr Jerica Marušic, "What Good is Poetry? The Views of Plato and Aristotle"
Ms Rona Munro, "Making Drama Out of History"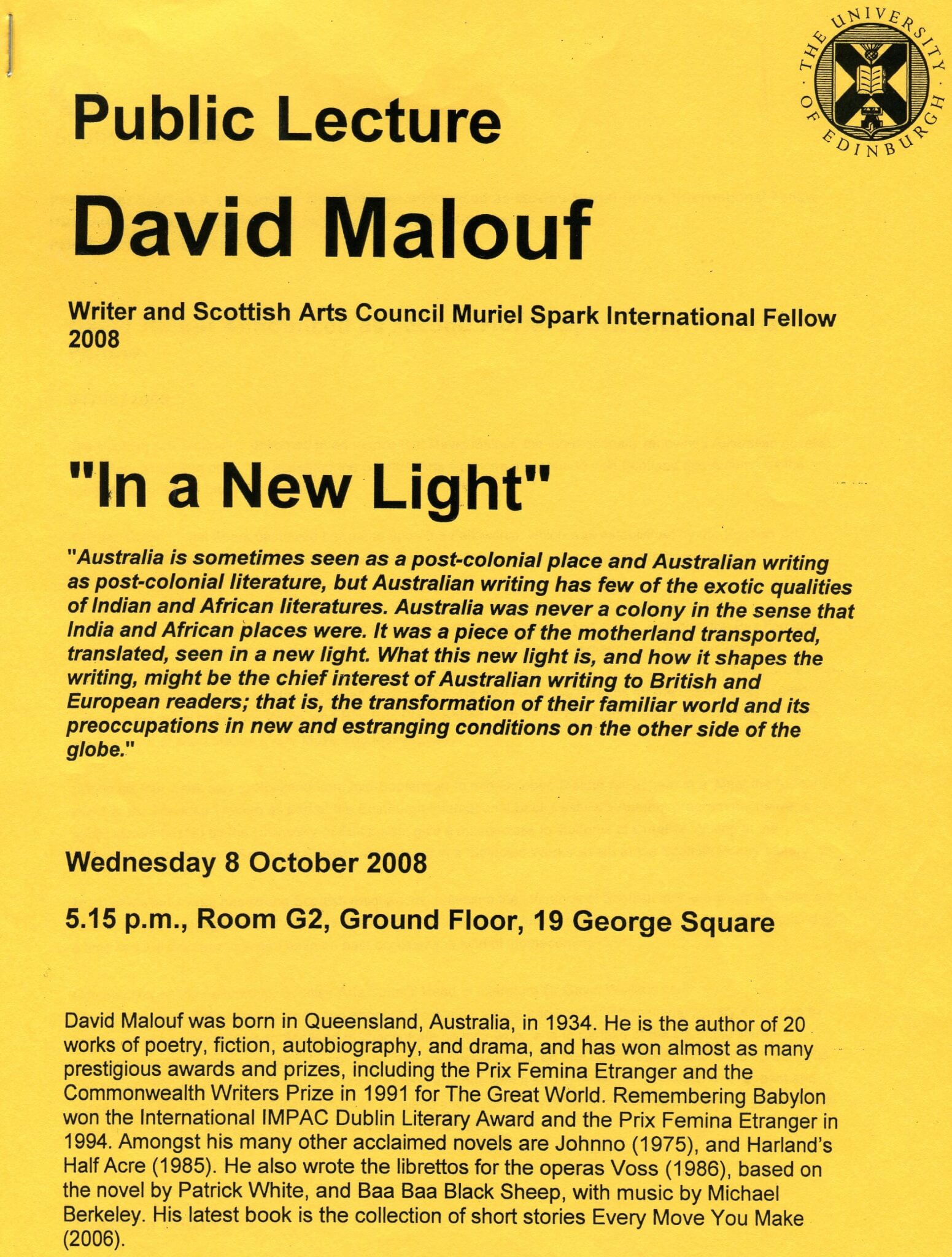 gallery