FELLOWS
David Richard Armitage, Emmanuel College Cambridge
Poonam Bala, University of Delhi
Suhash Chakravarty, University of Delhi
Larry R. Churchill, University of North Carolina at Chapel Hill
Martin Fitzpatrick, University College of Wales, Aberystwyth
Richard Gaskin, University of Sussex
Suresh C. Ghosh, Jawaharlal Nehru University
Börje Harnesk, Umeå University
Colonel Diana Henderson, Scots at War Project Director
Elizabeth Hulse, Art Gallery of Ontario
Sir Ludovic Kennedy, writer and broadcaster
Catherine Kerrigan, University of Guelph
Loren A. Kruger, University of Chicago
Senator Masao Kunihiro, House of Councillors, Tokyo
Iain McCalman, Australian National University
Nicoletta Momigliano, Wolfson College Oxford
Terence Penelhum, University of Calgary
Philip J. Rossi, Marquette University
Eva Schaper, University of Glasgow
Joachim Schwend, Johannes Gutenberg Universität, Mainz
Susan Baird Shatto, Queen's University Belfast
Molly Smith, Saint Louis University
David Stafford, Canadian Institute of International Affairs
Benjamin Vogel, University of Warsaw
Andrew Ward, San Jose State University
Jon Wetlesen, University of Oslo
EVENTS
HRH The Duke of Edinburgh attends the launch of the feasibility study for the Scots at War project at the Royal Museum of Scotland (the project is officially started in 1994).
Professor Peter Jones visits India in March, supported by the British Council, to meet with former Fellows and potential future Fellows.
A colloquium on Joseph Priestley is organised on behalf of the 18th Century Group, an inter-faculty group which meets regularly at IASH under the title of the '50-Minute Club'.
Following the success of Europe Redefined in 1991, IASH organises Europe: Ways Forward in association with the Europa Institute from 30 October to 1 November. Speakers include Sir Leon Brittan, Russian Ambassador Ivan Silaev, and Norbert Walter. The chair is Sir Rodric Braithwaite, former UK Ambassador in Moscow.
The Institute also supports a colloquium on Medieval Dialectology and a one-day conference titled 1492: Ferdinand, Isabella and the Catholic Monarchy in Spain, co-organised with the National Library of Scotland and the Society for Renaissance Studies.
Martin Fitzpatrick: "My experience at IASH was wholly positive. My period in Edinburgh has shaped the direction which my research and writing has taken since then and for the foreseeable future."
Diana Henderson: "The Institute under Peter's guidance has become a priceless asset to the University, 'The Jewel in the Crown' as Sir David Smith used to say. Universities the world over cast envious eyes on the Institute."
Sir Ludovic Kennedy: "The real benefit of the Institute was that on each occasion it gave me a much needed break from my own house, where I normally write, and all the distractions in the way of telephones, shopping, and the usual domestic commitments made on one. I found that the isolation afforded me was a very great help in my work."
Terence Penelhum: "What the Institute does, and does splendidly in my experience, is provide the humanist scholar with circumstances we all crave but find it hard to arrange… a sense of scholarly community, a gentle reminder that one's research is serious business but in no sense a burden – just the right combination of solitude and community that the humanist scholar needs."
WORK IN PROGRESS SEMINARS BY FELLOWS OF THE INSTITUTE:
Mr David Richard Armitage, "Imperium or Emporium? The Intellectual History of the Scots Darien Venture 1695-1707"
Professor John Burrows, "Personal and Social Influences on Literary Style"
Professor Larry R. Churchill, "Rationing Healthcare in America – Perceptions and Principles of Justice"
Dr Martin Fitzpatrick, "Thinking about Revolutions in the late 18th Century"
Professor Leslie Gunawardana, "Sri Lanka Ethnicity and Historiography"
Dr Borje Harnesk, "Religion, Class & Culture – the evangelical awakening in North Sweden, 1810-50"
Miss Elizabeth Hulse, "Recovering Sir Daniel Wilson, artist ethnologist and teacher"
Sir Ludovic Kennedy, "Miscarriages of Criminal Justice & the Need for Reform"
Dr Loren A. Kruger, "History & Drama in Post-Imperial Britain"
Professor Iain McCalman, "The Devil's Chaplain: popular romanticism, free thought & radical theatricality in early Victorian England"
Dr Nicoletta Momigliano, "The Odd Couple: Arthur Evans, Duncan MacKenzie & the Discovery of Knossos"
Professor Philippe J. Salazar, "The Savage Fable: The Foundation of Anthropology at the French Academy of Belles Lettres"
Professor Philip J. Rossi, "A World of Human Making: Kant on Evil, Culture & Moral Progress"
Professor David Stafford, "'The Best of Friends?': British-American Intelligence Links in the Twentieth Century"
Professor Benjamin Vogel, "The Piano as a Symbol of Burgher Culture in the 19th Century"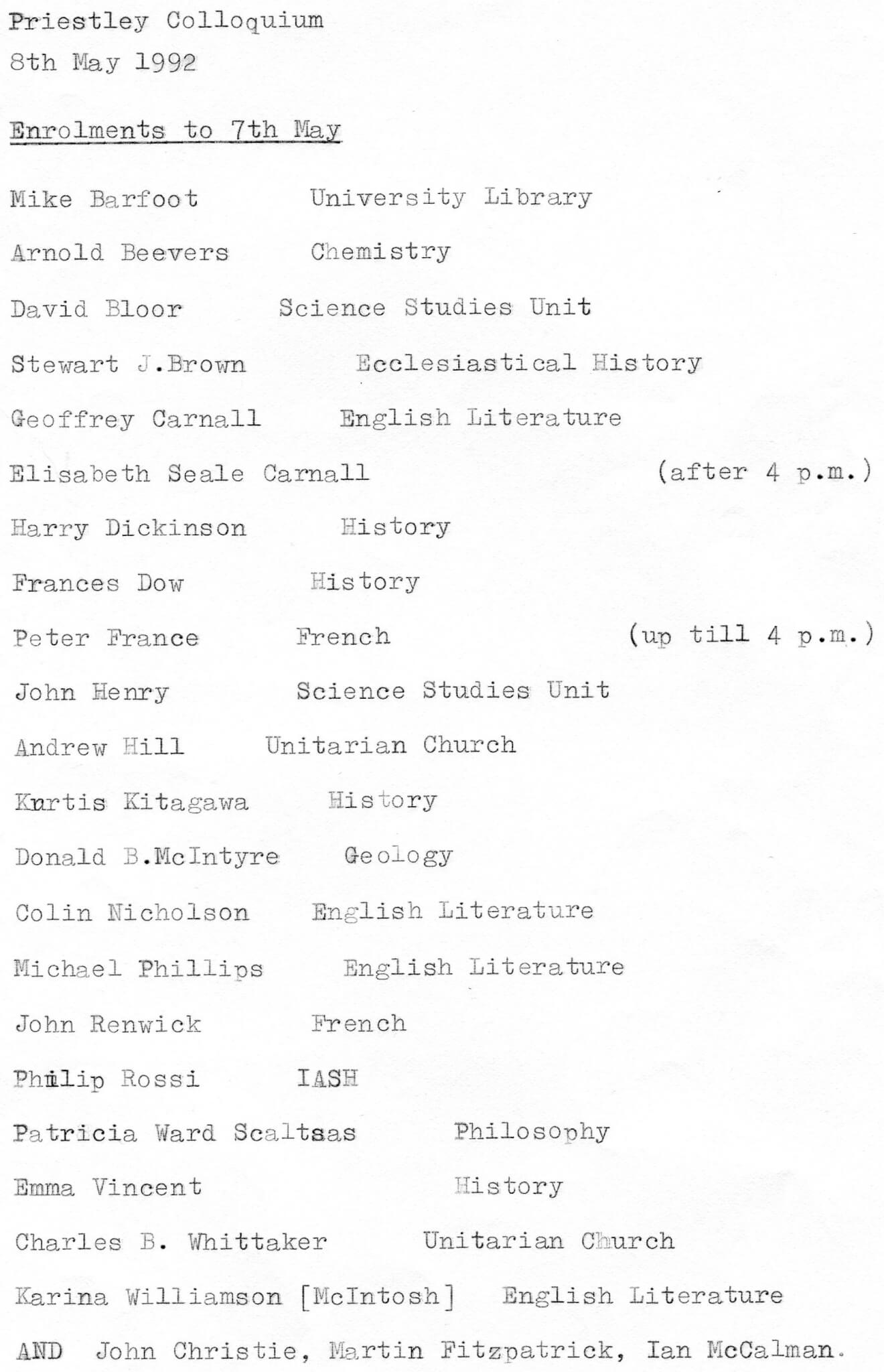 gallery